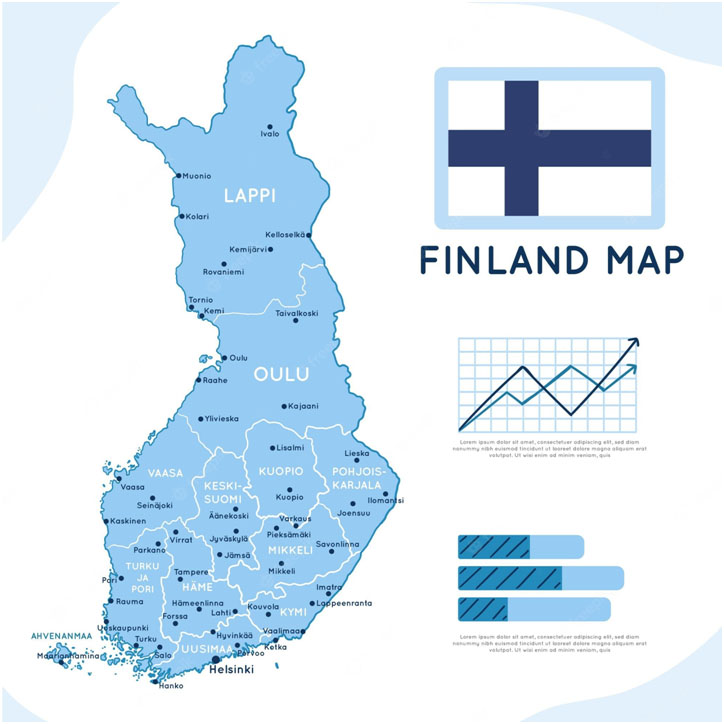 COUNTRY OVERVIEW
Finland, officially the Republic of Finland, is a Nordic nation in Northern Europe. Its land borders are with Sweden to the northwest, Norway to the north, and Russia to the east; it also shares maritime borders with Estonia across the Gulf of Bothnia and the Gulf of Finland. Finland has a population of 5.6 million and is home to the majority of ethnic Finns. Its area is 338,455 square kilometers (130,678 sq mi).The land cover is primarily a boreal forest biome, with more than 180,000 recorded lakes.
CLIMATE
With pleasant winters and warm summers, the annual average temperature is quite high in the southwest of the nation (5.0 to 7.5 °C or 41.0 to 45.5 °F) and comparatively low in the northeast of Lapland (Finland) (0 to 4 °C or 32 to 25 °F). The hottest day of the year occurs throughout all of Finland during Midsummer, or around July 20. The interior of Finland experiences summertime highs between 32°C and 35°C. Lapland experiences its first snowfall on average in September, whereas southern and western regions get it in November. In the southwest, permanent snow cover normally begins around Christmas, although in much of Lapland, it begins before mid-November. Around March, the maximum snow depth is typically found. AVERAGE TEMPERATURE HIGH/LOW: 12°C/-15°C approximately MOST SNOWFALL: MARCH AVERAGE HOURS OF DAYLIGHT: In Summers 14-18 hours ONE WORD FORECAST: Cozy and Comfortable
CULTURE
Traditional Karelian melodies and lyrics, as found in the Kalevala, had a significant effect on Finland's classical music. The Nordic folk dance music that essentially replaced the kalevaic tradition is said to have more of a Germanic influence than Karelian culture. Finnish folk music has had a roots revival and has entered the mainstream. The Sami people of northern Finland, Sweden, and Norway are most renowned for their fervently spiritual joik songs. The first Finnish opera was written by the German-born composer Fredrik Pacius in 1852. Pacius also wrote the music to the poem Maamme/Vårt land (Our Country), Finland's national anthem. In general, traditional country food and modern cooking styles are combined in Finnish cuisine. Traditional Finnish meals emphasize the use of potato, pork, and fish. Berries and whole grain products (rye, barley, oats) are frequently used in Finnish cuisine. (Such as bilberries, lingonberries, cloudberries, and sea buckthorn). Buttermilk and other milk derivatives are frequently used in food and beverages. Salmon is the fish that people in Finland eat the most. The second-highest per capita consumption of coffee is found in Finland.
ECONOMY
LIST OF FEW COMPANIES OF FINLAND
https://en.wikipedia.org/wiki/List_of_companies_of_Finland
LITERATURE
Although Mikael Agricola's translation of the New Testament into Finnish during the Protestant Reformation is considered to be the beginning of written Finnish, few major literary works were produced until the 19th century and the emergence of a Finnish national Romantic Movement.
STUDENT LIFE IN FINLAND
The monthly cost of living for a student in Finland is between 700 and 1,100 euros. The least amount you must demonstrate having available to you while you are studying is 560 EUR per month. The sum is determined by the city in which you will reside. For students from the EU and EEA, public universities are free. The annual tuition for non-citizens of the EU/EEA is between 4,000 and 18,000 EUR. However, the majority of PhD degrees are free for all students from outside. Finland has no set minimum wage; however, the lowest pay rates often range from 7 to 8 euros per hour. Depending on their area and type of work, students typically make between 9 and 13 euros per hour. According to recent studies, overseas students like the campus setting and their schools' commitment to the environment. Additionally, overseas students are motivated in their daily lives by the style and construction of the campus buildings as well as the surroundings off campus. Student organizations and unions represent students' interests and plan extracurricular activities including sporting and cultural events.
MAJOR UNIVERSITIES OF FINLAND
Arcada University of Applied Sciences
Hanken School of Economics
Metropolia University of Applied Sciences
LUT University
LAB University of Applied Sciences
HAME University of Applied Sciences
KAJAANI University of Applied Sciences (KAMK)
Karelia University of Applied Sciences
Lapland University of Applied Sciences
Novia University of Applied Sciences
Satakunta University of Applied Sciences (SAMK)
Seinäjoki University of Applied Sciences (SEAMK)
Tampere University of Applied Sciences (TAMK)
Turku University of Applied Sciences (TUAS)
Vaasa University of Applied Sciences (VAMK)
REFFERENCE
GALLERY