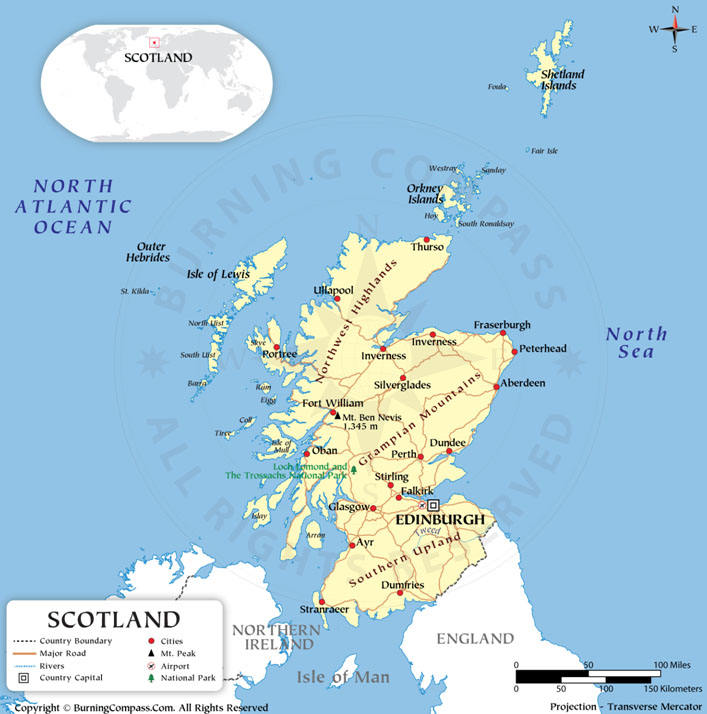 COUNTRY OVERVIEW
A nation that is a part of the UK is Scotland. Mainland Scotland, which occupies the northern third of the island of Great Britain, is bordered by the Atlantic Ocean to the north and west, the North Sea to the northeast and east, and the Irish Sea to the south. It has a 96-mile (154-kilometer) border with England to the southeast. Additionally, it has more than 790 islands, mostly in the Hebridean and Northern Isles archipelagos. The majority of the population, including the city of Edinburgh, is situated in the Scottish Lowlands' Central Belt, a plain that lies between the Southern Uplands and the Scottish Highlands. Scotland is divided into 32 council areas, which are local authorities or administrative subdivisions. Highland is the largest council area in terms of size, whereas Glasgow City is the largest in terms of people. Each subdivision has received a small amount of devolved authority from the Scottish Government, covering things like education, social services, and roads and transportation. The population of Scotland, the second-largest nation in the United Kingdom, was 8.3% of the total in 2012.
CLIMATE
Most of Scotland has a moderate, oceanic climate, which is notoriously unpredictable. It experiences far milder winters (but cooler, rainier summers) than regions at similar latitudes, such as Labrador, southern Scandinavia, the Moscow region in Russia, and the Kamchatka Peninsula on the other side of Eurasia, since it is warmed by the Gulf Stream from the Atlantic. The coldest temperature ever recorded anywhere in the UK was 27.2 °C (17.0 °F), which was recorded on February 11, 1895 at Braemar in the Grampian Mountains. Temperatures are typically lower than in the rest of the UK. In the Lowlands, winter maxima are often 6 °C (43 °F), whereas summer maximum are typically 18 °C (64 °F). The highest temperature recorded was 35.1 °C (95.2 °F) at Floors Castle, Scottish Borders on 19 July 2022. AVERAGE TEMPERATURE HIGH/LOW: 15°C/5°C approximately AVERAGE RAINFALL: 4577 mm yearly COLDEST MONTH: December, January and February ONE WORD FORECAST: Pleasant
CULTURE
Scottish music, which draws on both traditional and contemporary elements, is a prominent part of the country's culture. The Great Highland bagpipe, a wind instrument with three drones and a melody pipe (called the chanter) that are continuously fed by an air reservoir in a bag, is a well-known traditional Scottish instrument. Bagpipe bands that perform and showcase using bagpipes and other drums. Scottish music has influenced new musical genres and gained a global following. Due to local and foreign influences, both ancient and modern, Scottish food has unique characteristics and recipes of its own, but it also has a lot in common with wider British and European cuisine. Along with migrant-related international foods, traditional Scottish specialties are available. The main ingredient in traditional Scots cooking is the abundance of game, dairy products, fish, fruit, and vegetables that can be found naturally in Scotland. Traditional Scots cookery relies heavily on simplicity and rarely uses foreign spices because they were once scarce and expensive.
LITERATURE
Robert Burns, Sir Walter Scott, J. M. Barrie, Robert Louis Stevenson, and Arthur Conan Doyle, who created Sherlock Holmes, are all Scottish authors. Hugh MacDiarmid and Neil M. Gunn made contributions to the Scottish Renaissance more recently, along with darker works by Ian Rankin and Iain Banks. Edinburgh, the capital of Scotland, was the first City of Literature designated by UNESCO.
STUDENT LIFE IN UNITED KINGDOM LITERATURE
Warm and welcoming people, bustling cities, and breathtaking scenery. These are only a few of the factors that have influenced people's decisions to reside in Scotland for many years. Weather-wise, Scotland has a well-deserved but slightly unjust reputation. In reality, Scotland's weather is often moderate, variable, and rarely extreme. While it's possible to have "four seasons in one day," if you move 20 to 30 minutes in any direction, the weather will usually be radically different. Scotland may be visited at any time of year; there is always something to see and do. Scotland is especially lovely in the spring, when flowers start to bloom and the amazing cherry blossom bursts into bloom.
MAJOR UNIVERSITIES OF SCOTLAND
The University of Edinburgh
University of Glasgow
University of Strathclyde
University of Aberdeen
University of Dundee
University of Stirling
Glasgow Caledonian University
Heriot-Watt University
Edinburgh Napier University
Robert Gordon University
Queen Margaret University
Abertay University
REFFERENCE
GALLERY